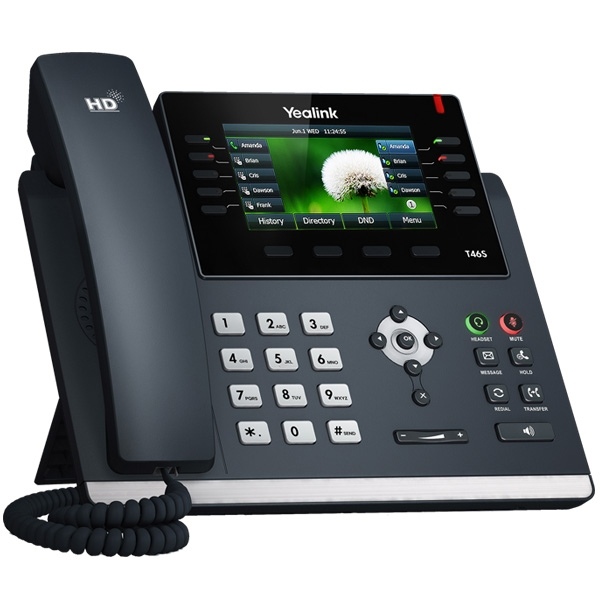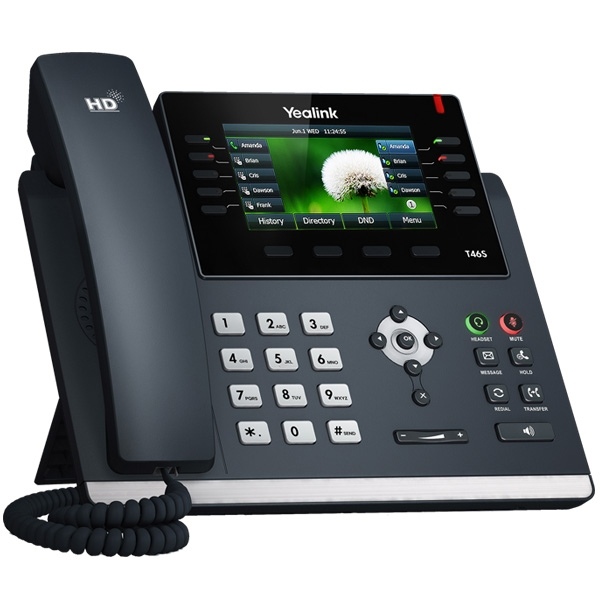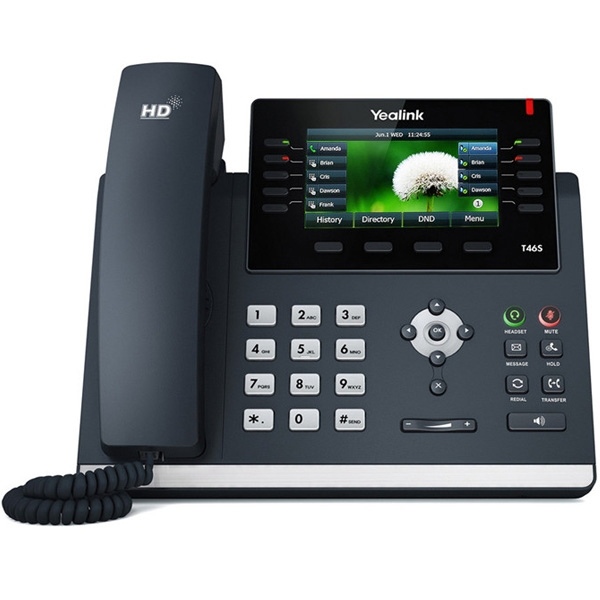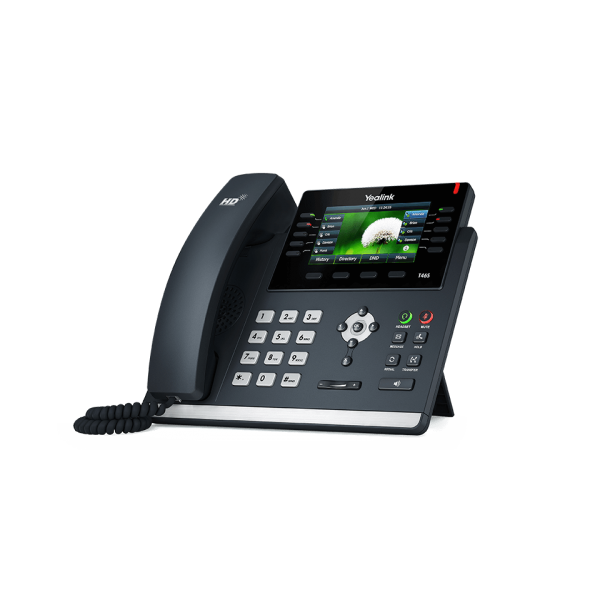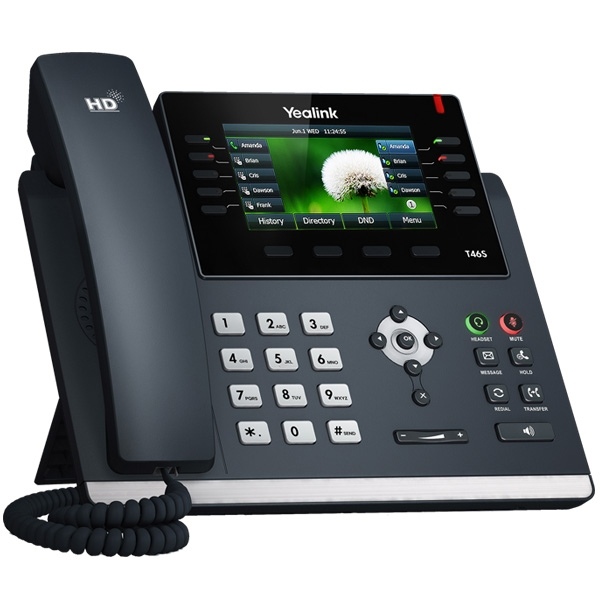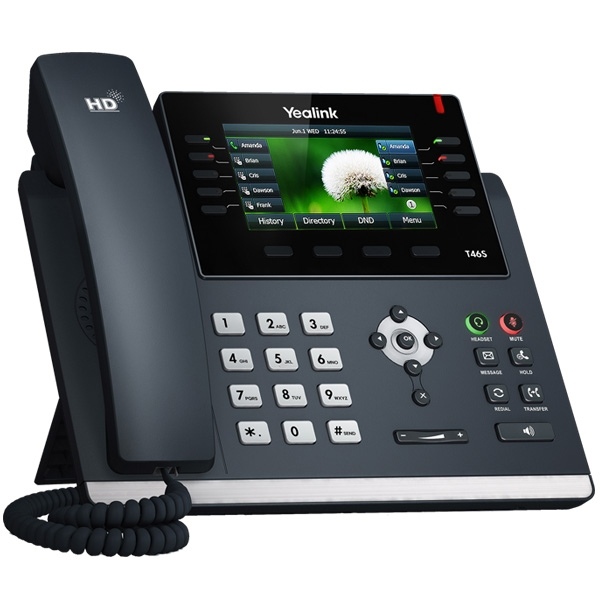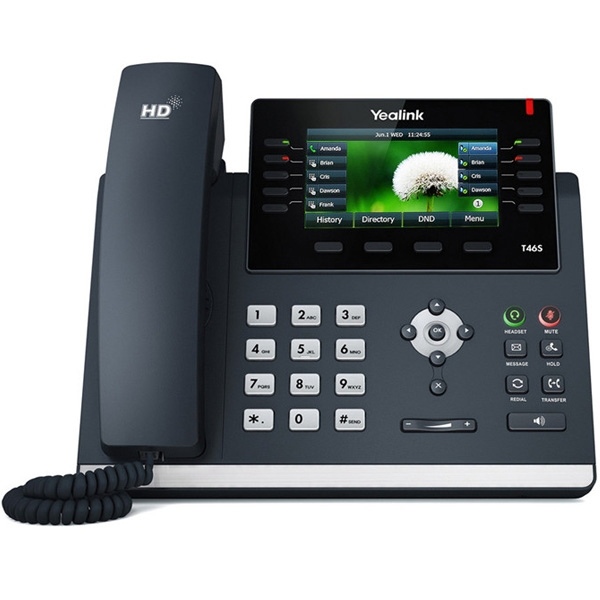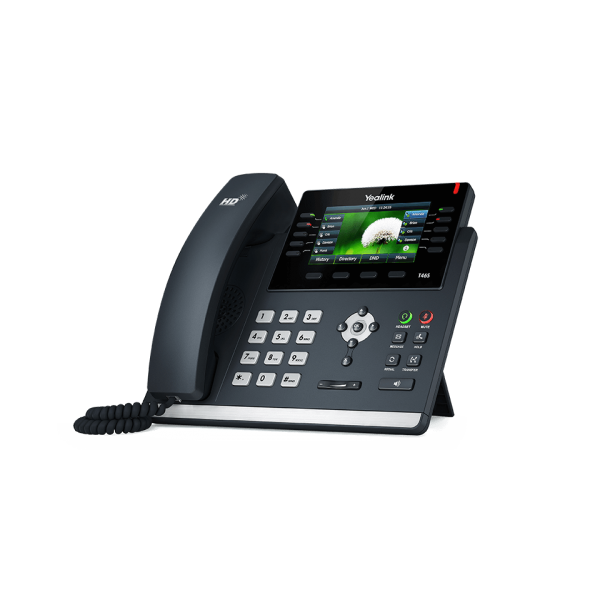 A one-time price of
£124.99
will be added to your order.
Elegant executive-grade 16 line IP phone
The Yealink T46S is an elegant executive-grade 16 line IP desktop phone with a high resolution 4.3" backlit colour display and a wide range of advanced productivity-enhancing features. With Optima HD technology and the wideband Opus codec, enjoy crystal-clear communications every time. Not to mention, the T46S also comes with integrated Gigabit Ethernet technology. In turn, make the most out of efficient call handling aswell. 
Two Ethernet ports and Optima HD technology
Part of Yealink's 4 series, the SIP-T46S has two Gigabit Ethernet ports and uses Optima HD technology to provide clear and lifelike communications and supports a variety of connections, including headsets, electronic hook switches, and USB. Improved from the T46G, the T46S now includes Yealink's Optima HD Voice technology that provides wideband sound, and with full-duplex, echo cancellation, acoustic clarity technology and adaptive jitter buffer, conversations are as clear as if they were face to face. Not to mention, the T46S also uses a wideband Opus codec. This codec provides higher sound quality compared with other wideband codecs within a high network bandwidth.
Up to 16 VoIP accounts 
This phone has been designed for professionals who require multiple lines, supporting up to 16 VoIP accounts. It is easy and comfortable to use and its stand can be adjusted into 2 angles. This deskphone supports PoE and so does not come with a power supply included.
Supports up to 6 expansion models 
Not to mention, the T46S supports up to six expansion models. This allows for up to 240 additional buttons along with an LCD display screen and LED system. If this wasn´t enough, the T46S comes with three pages of buttons. These buttons can be programmed with up to 27 paperless DSS keys. In other words, this SIP phone is excellent in terms of scalability as well. 
Features:
Revolutionary new design
Yealink Optima HD voice
Dual-port Gigabit Ethernet
4.3" 480 x 272-pixel color display with backlight
2 Built-in USB ports
Supports Bluetooth headset (with USB Dongle)
Up to 16 SIP accounts
Paper label free design
PoE support
Headset, EHS support
Supports 6 expansion modules
Stand with 2 adjustable angles
Wall mountable
HD voice: HD handset, HD speaker
Codecs: G.722, G.711(A/μ), G.723, G.729AB, G.726, GSM
Full-duplex hands-free speakerphone with AEC
3-way conferencing
Local phonebook up to 1000 entries
Busy Lamp Field (BLF), BLF list
Bridged Line Appearance(BLA)/SCA
LED for call and message waiting indication
Dual-color (red or green) illuminated LEDs for line status information
4 context-sensitive "soft" keys