Software-based IP PBX phone system which replaces traditional PBX hardware.

Evolve Your Communications With a Hosted 3CX PBX
With our Hosted 3CX PBX Service, available in a 4, 8, 16, 32 and 64 simultaneous calls with a direct connection to our SIP Trunk Gateways and works with SIP standard based IP Phones, to provide a full PBX solution without the inflated cost and management headaches of an 'old style' PBX. Used by more than 30,000 companies globally, The 3CX PBX has been recognized for its innovation and cutting-edge technology.
Easy Management

Because 3CX PBX is hosted by us for you, It's preconfigured to work with popular IP Phones, saving you the hassle of having to configure and manage these devices.
No need for extensive telecom knowledge or training
Open Standards – Vendor independent
Central Control from the 3CX Management Console
Take your Extension Anywhere
3CX includes clients for smartphones and Mac or Windows laptops that allow users to use their office extension from anywhere, seamlessly integrated as if they were in the office. Not only are all calls to the office free of charge, but employees can leverage one single number and make a professional impression
8 Advantages of 3CX Phone System
Web Based: Easy to manage
Inexpensive to buy and expand
Work from anywhere with iOS & Android clients
Integrated video conferencing using WebRTC
Better customer service with advanced call queues
Integrate with CRM & Accounting software
Standards based – use popular IP Phones
Personal Click2Meet URLs
Apps & Features
With 3CX, you can take your extension wherever you go. With apps for Android and iOS, softphones for Windows and Mac, WebRTC softphone and clientless web conferencing you are guaranteed to be kept in the loop. Customers can instantly reach you directly from your website with the 3CX Live Chat & Talk plugin.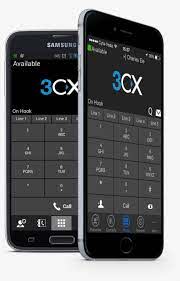 Download 3CX apps on your Android / iOS Device
Use your extension from anywhere
Free VoIP calls with your smartphone
Save battery life with "PUSH" notifications
Connect all apps simultaneously via SIP Forking
Most Progressive Android & iOS VoIP apps in the UC market
Benefit from integrated features such as status, web conferencing, instant messaging
Latest Version of 3CX PBX
We only use the latest version of 3CX Phone System to ensure its fully supported and secure.
Deployment in less then 48 Hours
We can normally have you up and running in as little as 48 hours. This includes the PBX Configured and phones on your desk.
Secure Firewall
We always provide 3CX with a dedicated firewall seperating 3CX from the Internet to ensure maxinium security and in addition enables us to provide secure IPsec VPN Links to your office so Communications between 3CX and your phone is Encrypted and secured. All our hardware is based in a Tier 3, Level 1 PCI-DSS compliant data centre.
SIP Trunks
SIP Trunk included with Hosted 3cX includes the number of channels depending on what edition of 3CX you choose and we have a variety of call packages to meet your individual needs.
Plans
Features
COMPARE PACKAGE FEATURES
Fully Supported
With all our Hosted 3CX Services includes full support of the PBX, giving you peace of mind that we are here to help if you need any configuration changes.
Multi Level Backups
For peace of mind not just for you but also us as well, we run multi-level backups.We backup the whole server daily in addition to backing up the 3CX Configurations. Both backups are stored on separate backup storages and replicated to a second data centre. This way we can always guarantee getting your 3CX Configuration data in the event of a server hardware failure.